Customer focused industries are having trouble keeping pace with consumer and internal demands for digital transformation, and 2020 hasn't eased that pressure.
Developing a successful digital transformation strategy isn't about choosing the right technology or collecting even more data points - it's about leveraging your channels, your brands, your investments and your partners to bring long-term value to you and your customers. This article looks at how retailers like Adeo Group and Micromania successfully accelerated their transformation, as analysed by Forrester Consulting through a Total Economic Impact (TEI) report commissioned by ReachFive.

The struggle is real.

Like many B2C companies, our clients were struggling to connect, leverage and scale their complex technology environment to provide the best customer experience at all points. Not managing authentication and identity correctly brings about a number of challenges:
With capricious consumers, how do brands provide effective customer experience knowing that just one point of friction can send shoppers running to the competition?
When they can't identify and authenticate their customers, how does a brand know who each customer really is?
How can they build brand-trust with customers, while collecting and distributing data across their ecosystem?
How do they manage, connect and leverage all their complex technology investments… and then scale all this across all their brands and geographies?
How does your legacy solution manage a surge of customer logins during a pandemic?
Enter CIAM solutions. Customer identity and access management acts as a hub for customer engagement - sharing and managing unified customer profiles securely across your business. But as demand for Customer Identity & Access Management grows, with retail making up 23% of global CIAM investments, how do you cut through all the tech promises to assess the real bottom-line benefits?
ReachFive commissioned a Forrester Consulting Total Economic Impact report of its CIAM solution. It takes a look at the challenges, benefits and costs faced by retailers looking to invest in the solution.

A tale of two retailers using CIAM: Global DIY group, to specialized gaming retailer.
From the global #3 in DIY retail, to a national leader in video games and cultural goods - no matter the size and scale, both omnichannel retailers needed to adapt and scale with changing consumer behaviour and unprecedented global events. Prior to using ReachFive, both had a complex environment of disconnected in-house and external solutions for customer identification. "It was critical for both interviewed organizations to securely evolve their authentication capabilities to better recognize and serve their customers. They quickly realized that they would be unable to achieve their long-term goal of unifying customer profiles if they continue to use their legacy platforms." outlines the report.
Who is

Adeo

? A global group with 26 interconnected companies, 500 million customers, and 850 sales outlets in 13 countries.
Who is

Micromania-Zing

? A leading video game and pop culture retailer with nearly 430 stores and a popular e-commerce site for video games and pop culture merchandise. Owned by American group GameStop.
Why did they choose ReachFive's CIAM solution?
"We want our customers to be able to connect, navigate, and interact with our brands and partners seamlessly. Deploying ReachFive directly contributes to that objective. Furthermore, it is a great example of an IT tool deployed as a 'platform model,' rather than as a disconnected or siloed application." - Customer Platform Leader, Adeo Group.
"We wanted to improve our ability to recognize customers while continuing to secure authentication capabilities. We needed to facilitate our ability to collect customer consents, to manage and store it" - Director of e-commerce & digital, Micromania-Zing.


Fast Return on Investment: ReachFive ROI of 333% with payback in just 3 months.
To conduct this research, Forrester interviewed individuals from Adeo and Micromania, a Director of E-commerce & Digital and a Customer Platform Leader. From there, they designed a composite organization based on the characteristics of the interviewed customers. A financial model framework was then created that considered the benefits, costs, risk and flexibility involved in the investment decision. The results were striking, with a 333% ROI over 3 years, 3 month payback period and thousands of hours saved.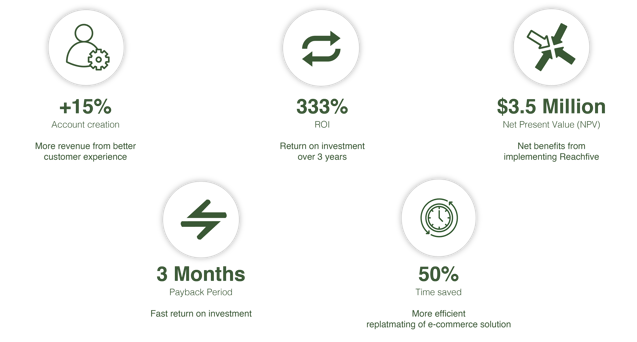 Additional revenue ReachFive is bringing to retailers:
Incremental revenue from better customer experience including a 15% increase in customer account creation.
Incremental revenue from platform scalability with improved availability leading to $2.2M in additional revenue over 3 years.
Extra time ReachFive is giving back to teams, so they can focus on other digital transformation initiatives:
Efficiencies from re-platforming of e-commerce solution including 50% of time saved on customer data migration
Resource optimization with faster deployment with 1000 man hours saved
Savings from reduced help desk tickets with more than 2,500 help desk-related issues avoided per year.
Beyond measurable revenue and productivity savings, non-negligible unquantified benefits were reported by both Adeo and Micromania:
The holy grail of improved data-based decision making
Creating an omnichannel experience: connecting brands through e-commerce, mobile apps, in-store and loyalty programs.
Stronger data protection and security, the key to brand-customer trust and stopping fraud attempts.
Alignment and support of corporate digital strategy with visibility gained not just on the brand's customer journeys, but also extended to their partners websites and tools - expanding their ecosystem to bring more value to their customers, and ultimately driving better business outcomes.
ReachFive doesn't just work with retail. We work across customer-centric industries including sports & leisure, travel & hospitality, finance and media to help them attain the same leading brand customer experience that retailers provide to their consumers.